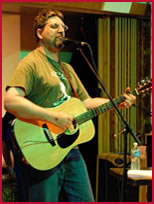 01 - Artist Name & Location = Chris Nelson Lebanon, Pennsylvania (USA)
02 - How did the project come into existence? = I used to play in a band called Fishkill and I released material under this name until 2005 when I formed an actual band with that name. After the band broke up, I decided to release music under my own name. I now play live as an acoustic musician while playing all the instruments on my recordings.
03 - Who are the members of the band if any and please tell us about it? = Just me, unless there's a guest appearance.
04 - How would you describe your sound/genre? = Somewherein between folk, rock, and blues. The point moves around between those three styles. The music has a way of staying with you long after it's stopped playing.
05 - What formal training or previous experience do any of the members have? = Except for a class in how to teach music to children I took in college, none. I'm a self-taught musician.
06 - Are you working w/ a producer on your upcoming album? = No. I know the sound I want and I'm a cheapskate.
07 - Who would you say has been the biggest influence on the bands sound or that you have used as inspiration for your music? = That's a difficult question for me. there have been so many bands and musicians that have influenced me over the years that it's difficult to name only one. Steve Miller is my earliest influence, but I'm also heavily influenced by the Beatles, the Who, Led Zeppelin, Pink Floyd and Genesis.
08 - Where can people go to learn more about you and hear your music? = My web site has lots of music, videos, and information about me and my music,as well as where I'll be playing next if you want to see my acoustic shows. Go to www.chrisnelsonband.com.
09 - If you could play anywhere in the world or with anyone you wanted where and who would it be with? = I always wanted to play CBGB's in New York, but they'
re closed now. I always wanted to play at Missippi Nights in St Louis. As far as who with, I think the Smithereens would be a good match for me.
10 - What has been your greatest experience so far either individually or as a whole? = Playing the Bodog Battle of the Bands at the North Star Bar in 2005 when I was with the band Fishkill. It was the most exciting and terrifying experiences of my life and I learned a lot from doing it.
11 - Do you have any upcoming events or news you would like to tell our readers about? = Yes! I'm putting the finishing touches on a collection of some of my older recordings that I will be releasing in October called "Fish Stories: 1986 - 2005." Each track has been remixed, remastered, and in some cases parts have been re-recorded or the song has been re-recorded altogether. This actually was one of the hardest projects I've worked on. The trick is to bring the sound up to date without compromising the music. It's been a challenge. I also have about two albums' worth of material that I will begin recording over the summer, so I should have brand-new music released by next year. This is going to take a while, so please follow me either on Facebook, Twitter, or join my email list to keep up with all this. I'm also coordinating a fundraiser for the Wounded Warrior Project called Sound Off for Vets. It's a free concert with prize drawings and items for sale that will take place in Harrisburg, Pennsylvania on May 19th starting at noon. Our goal is to raise $1000 during this year's event. Go to the event web site at http://vets.cygnuswave.com to find out more about it. If you're in the central Pennsylvania area, please come out and help support this event!
12 - Where do you see yourselves or hope to be in about 5 years? = Probably about the same place as I am right now. There is so much independent music out there that is is overwhelming for people. Those who find my music usually do so by accident, and I'm OK with that. I feel I've earned their attention with what I'm doing. My approach is like that of a painter selling his works on the sidewalk. I display my works on the Internet sidewalk for passersby to enjoy, and sometimes purchase. It's a very intimate relationship and I get to have total creative freedom to do whatever I want to. In order to really draw attention to your music you need to pay big $$$ in order to get the word out there and I don't want to pay it. I also am not as enthusiastic about a record contract, since I would be ultimately responisble to people who really have no business making creative decision about my music. I realize that I won't be playing any arenas, but that's not what music is all about to me.